To enable your own system with the most advanced text analysis capabilities, you can rely on Sapremo™ that offers cutting-edge text analytics and information extraction capabilities. Sapremo can be integrated into different software applications, websites, tools, or specific business solutions and add the power of text analytics in up to 16 languages. You can readily install Sapremo™ on your server and start working with it.
Sapremo™ is a single API module that will efficiently handle all your text analysis needs including:
NLP: tokenization, part-of-speech tagging, lemmatization, sentence boundaries detection, syntactic analysis, negation detection, and coreference resolution
Keyword and phrase extraction
Detection of pre-set named entities and facts
Extraction of custom entities and facts (using the powerful XPDL language)
Sentiment analysis
Document classification
Document summarization
Language detection and spelling correction
and much more.
Specialized Applications
Sapremo™ can perform domain-specific analysis: it supports specialized Sentiment Analysis for documents that belong to a specific domain covering: Finance | Insurance | Restaurants | Technology | Hospitality | Air Travel
Megaputer also offers a specialized module called DigiNurse™ capable of extracting clinical findings from patient medical records. Contact us to learn more or to see a demo.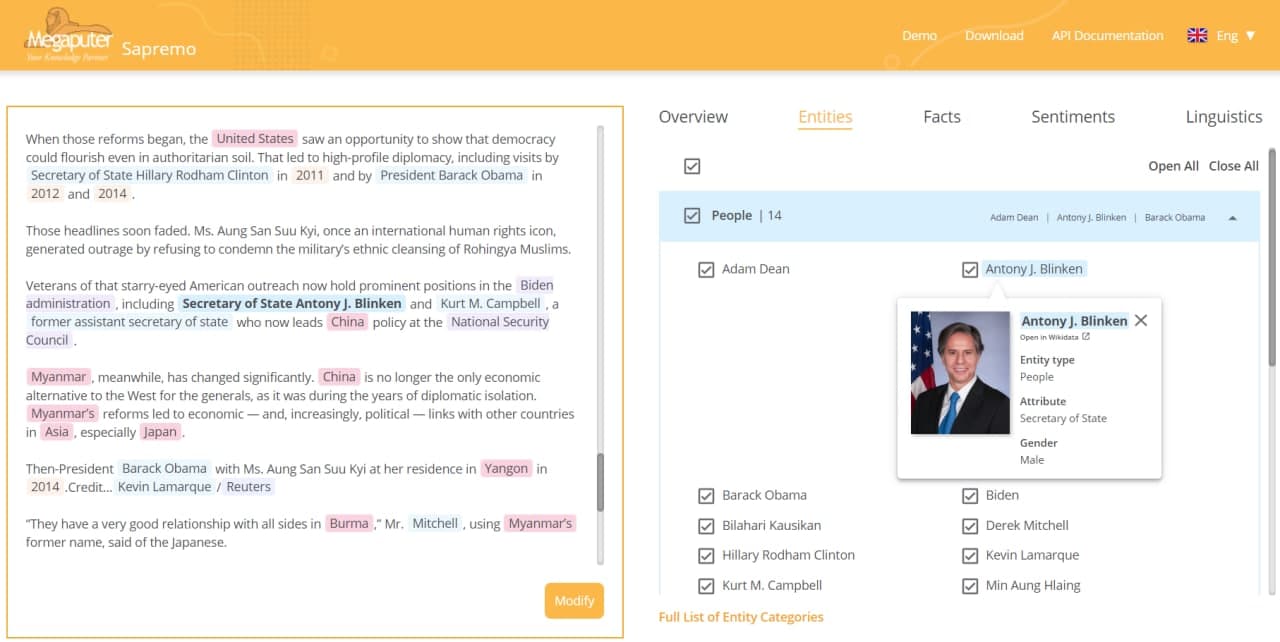 You can try out a simple online application built on Sapremo, as well as download an evaluation copy of the system for your own use. Check it out!