Bloomington, IN – September 1, 2003. — Megaputer Intelligence Inc. announced a successful completion of the proof-of-concept project demonstrating benefits of applying the data and text mining system PolyAnalyst(tm) for airline flight safety data analysis. The project was sponsored by the Federal Aviation Administration, Office of System Safety, and carried out in cooperation with the Analytical Methods and Tools Working Group of the Global Aviation Information Network (GAIN). The results of the project were reported to the international airline safety community at the Sixth GAIN World Conference in Rome, Italy.
The purpose of the project was to develop new text mining methodologies for the analysis of flight safety data. PolyAnalyst(tm) from MEGAPUTER Intelligence was used for the analysis of de-identified safety data from the Aviation Safety Action Program (ASAP) database of Southwest Airlines, with the ultimate goal of further enhancing long-term flight safety performance.
"PolyAnalyst enables flight safety officers to quickly perform extraction of stable patterns of terms occurring in pilot narratives and present the results in a convenient visual form," says Tim Logan, Director, Flight Operational Safety, Southwest Airlines. "The visualization capabilities of PolyAnalyst optimize the usage of flight safety officers' time and help create easy-to-understand executive reports, thus making the results of the analysis available to more decision makers in a timely manner."
PolyAnalyst demonstrated efficient processing of large volumes of mixed structured and unstructured data, automated extraction of important patterns and clusters of terms from text, reporting of the results of the analysis as visual graphs, and intuitive drill down to original data records supporting the findings. An example application of PolyAnalyst to aviation safety data is offered in GAIN's Guide to Analytical Methods & Tools for Airline Flight Safety Analysis, Second Edition, June 2003.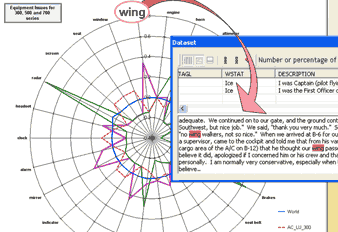 Download: https://www.megaputer.com/wp-content/uploads/gain-guide-analytical-methods-tools-flight-safety-data-analysis.pdf
"The project helped to demonstrate how much potential text mining has to become a key safety data analysis technique," says Christopher A. Hart, Assistant Administrator for System Safety, Federal Aviation Administration. "Exciting advances in text and data mining tools are enhancing the aviation community's ability to convert ever-growing volumes of data into valuable knowledge to further improve an already-commendable safety record."
PolyAnalyst is a comprehensive and versatile suite of advanced data mining and visualization tools. It features a broad selection of machine learning algorithms for the analysis of structured and
unstructured data, including text analysis, link analysis, decision tree analysis, and visualization techniques especially well suited for safety data analysis.
About Megaputer Intelligence
Megaputer Intelligence (www.megaputer.com) is a leader in Business Intelligence software, offering a complete family of tools for knowledge discovery in large volumes of structured data and text. Megaputer tools enable over 500 customers worldwide to make informed data-driven decisions.
About Southwest Airlines
Southwest Airlines (NYSE: LUV), the fourth largest domestic carrier in terms of customers boarded, currently serves 59 airports in 58 cities and 30 states. Based in Dallas, Southwest currently operates nearly 2,800 flights a day, providing primarily shorthaul, high-frequency, point-to-point, low-fare service.
About GAIN

The Global Aviation Information Network (www.gainweb.org) is an industry-led international coalition of airlines, manufacturers, employee groups, governments and other aviation organizations formed to promote and facilitate the voluntary collection and sharing of safety information by and among users in the international aviation community to improve aviation safety.
Legal Notices
Megaputer and PolyAnalyst are registered trademarks of Megaputer Intelligence Inc. in the United States and/or other countries. The names of other companies and products mentioned herein may be the trademarks of their respective owners.